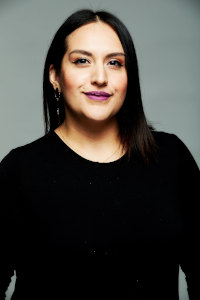 Italia Aranda
Co-founder of the Arizona Dream Act Coalition
Italia Aranda
Italia Aranda is originally from Mexico City, Mexico and, at the age of twelve, she migrated to Phoenix, Arizona with her parents and brother. In Phoenix, she graduated from high school at the top of her class and became the first person in her family to attend college.
As a freshman at Arizona State University, Italia co-founded the Arizona Dream Act Coalition, one of the first immigrant youth-led grassroots organizations in the country advocating for immigrant rights. After moving to New Mexico in 2010, Italia worked as a state wide coordinator for several immigrant, organizations and worked endlessly to increase access to higher education for undocumented students, the passage of a comprehensive immigration reform, and worked to increase awareness about the lack of access to mental health and wellness services for undocumented immigrants.
Italia received a bachelor's of science from the University of New Mexico in 2016 and currently works as a counselor and medical assistant at a reproductive health clinic. Italia is currently pursuing a degree in nursing and hopes to focus on providing mentoring opportunities for immigrant youth who are interested in becoming healthcare providers.