At HLHS, We are Taking the Lead in Strengthening Our Graduate Profile.
HLHS has been working closely with Future Focused Education (FFE) and Community of Practice in collaboration with the New Mexico Public Education Department (NMPED) to share our work on the graduate profile currently used at HLHS. We are being asked to share our innovative practices on how we determine graduation options that are reflective of student learning based on innovative teaching practices. Our Senior Capstone projects and Community Wellness Practicum has strengthened this mission specific goal and aligns with our plan to increase and improve upon graduation rates. As always, our commitment is to our students and if they reach the age of 22 and have been enrolled with us, they will be supported to graduate regardless of funding sources or impact to cohort numbers.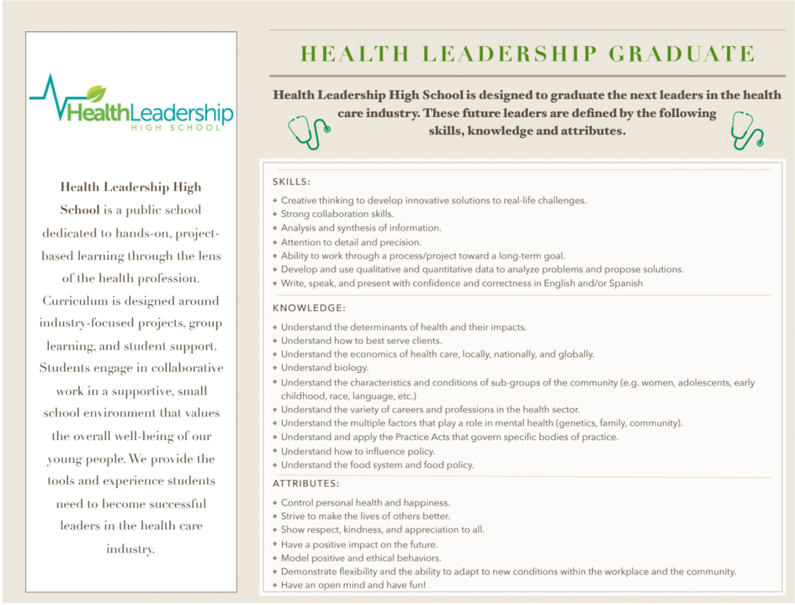 This document provides guidance on expectations in understanding the complexities and skills necessary to impact their community and attributes toward successful transitions post-secondary.
The HLHS team has mindfully crafted our graduation plan for students by studying and reflecting on current and past practices that lead to increased academic achievement. As leaders in this innovative practice, we will share these practices to help support the success of this model for other schools in New Mexico. In collaboration with NMPED, FFE and the Community of Practice, we will push to develop quality criteria for Performance-Based Graduation Options. Our reflective practices have helped us to better assess the needs of our student population and be mindful of our population who predominantly come from economically oppressed communities as well as English Language Learners and students with disabilities. 
Senior Capstone Experience
Prior to graduating from Health Leadership High School, senior students are required to create/implement a capstone project through their year-long Community Wellness Practicum project. This capstone experience provides the graduating cohort to practice the ASKs (attributes, skills and knowledge) listed in HLHS's graduate profile, beginning with the professional application process for acceptance into the CWP program.  
To help our students professional and personal growth we require that they apply to their senior year. The application process is lengthy and requires students to develop their soft skills by completing: an application that is very similar to a job application; a resume, a letter of intent about their passion project and personal attributes; prompts are provided to guide their letter or thoughts; and lastly we require they obtain a letter of recommendation from someone, preferably not a friend or family member, usually teacher or staff member. They are all given a deadline to complete. Before the deadline approaches, we meet with students weekly to support them with their writing skills, credit checks and asset mapping of themselves and passion. Once these items are complete, they are turned into the Transition Coach for review. All students must then complete an interview with their advisor, transition coach and senior teacher(s). We then provide students and families with an acceptance letter to CWP.  
Upon acceptance into the CWP program seniors are responsible for not only creating/planning an authentic public project that directly addresses a community health need impacting Albuquerque/NM but becoming an expert (through research and public presentation) in their chosen community issues as well. Seniors are responsible for hosting a community event during their spring semester culminating in a final senior presentation of not only their CWP project but their growth into adulthood as well. 
Public exhibition of student learning is a capstone experience for all students enrolled in Health Leadership High School. It is an experience in which students are able to directly share the knowledge they gained over the course of their projects with not only the community experts on their health industry topics but the greatest stakeholders (community members/project audience) for the project's outcomes as well. 
Exhibitions provide an opportunity for students to participate in real-world, hands-on experiences in which students can showcase the following: subject content proficiency, health industry knowledge/skills, 21st century skills (problem solving, communication, collaboration etc.), and graduate profile ASKs. In addition, exhibitions provide a final attempt for students to showcase their proficiency in their projects' learning outcomes to either earn a passing grade for their graduation credits or provide evidence of student learning required for invitation to interim school. 
HLHS has historically been able to accomplish these important exhibitions through either inviting community members/industry experts to judge on-campus, student presentations of learning or providing logistical support to bring our student's learning directly out into the community through industry-specific experiences. Exhibitions are a vital symbol of the three-pillar convergence model unique to the Leadership Network Schools.  
During the COVID-19 school closures in the 2020 spring semester, HLHS was unable to host an in-person exhibition event as historically planned. In response to these extenuating circumstances, and in the spirit of celebrating our student's achievements, the HLHS staff created an online portal/Zoom event, Somos Familia Website, in which community members/families/HLHS staff could browse student products/experiences for each project and offer a message of celebration to support our students' growth. For the duration of SY 2020-2021 school closures HLHS intends to continue this tradition of showcasing student excellence and achievements in a digital interface.