In response to the Yazzie and Martinez consolidated lawsuit, and at the direction of NMPED, HLHS formed an Equity Council to support the equity and inclusion initiatives of the District. We are embracing the opportunity to work toward serving New Mexico students by building an equitable, excellent, and relevant educational system that draws upon the experiences and strengths of our communities.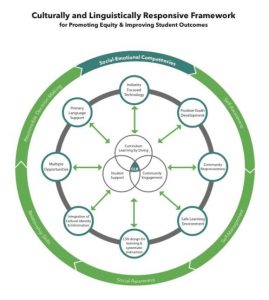 Equity Council Membership includes representatives from school leadership, school staff, students, parents and family members, community members, and members of Nations, Tribes, or Pueblos. The Equity Council will continually work to ensure at least half of the total membership is represented by the student groups identified in the Court's ruling in the Yazzie/Martinez case – students with disabilities, Native American students, students who are English learners, and economically disadvantaged students.
Our Equity Council is student led, community informed, and staff supported. Equity Council is a space where we understand that EVERY single student has the potential to flourish and do well with the right support. It is a space where we value all students' individual assets and strengths. We understand that sometimes the hardest thing is to ask for help. Equity council is a space where students advocate for students and where we understand the need for collaboration, community, and support.
The HLHS Equity Council has taken on the tasks of elevating student voice, intentional community building, cultural celebration, talking about current events and how they impact our school community, advocating for students, and creating a welcoming environment where all students can share their needs, wants, hopes and dreams. Equity Council members are motivated to do this work together because they know there are no simple answers to the complex issues we face, and they recognize collaboration is key to creating innovative and meaningful solutions.
The goal of the Council is to ensure HLHS engages students in the highest quality learning, prepares students for responsible, productive citizenship, and inspires students to be college and career ready regardless of language, culture, ethnicity, and socioeconomic status.
The HLHS Equity Council is working hard to actively address the educational inequities that exist within Bilingual Education, Indian Education, and Special Education. The Council recognizes racial equity as a critical component to raising the achievement of each and every student. The work that takes place in Equity Council is complex and often uncomfortable, but the HLHS community is committed to eliminating the achievement gaps between the highest and lowest-performing students and eliminating the racial predictability or disproportionality of our student groups that occupy the highest and lowest achievement categories. Equity Council is a place where students, families, educators, community members, and stakeholders learn from each other about the compelling and often challenging topics that we, as a diverse school district, encounter daily.
Testimonial from a Student Equity Council Leader

"Equity council is my safe place. As a student I have learned so much from teachers, and other students. As a member of Equity Council, my voice is heard in any situation. It takes one person to support, encourage, and give great advice to uplift who they really are.
While being in Equity Council I see myself more confident for who I am and to always make sure my voice is heard. Attending regular meetings helped me realize that if one person can help build others confidence and make us feel heard, I can do the same for my friends, classmates, and community.
We are stronger together and we can and will make a difference in not only our school community, but for others as well. Being a part of such a supportive and welcoming environment made me work harder for my future and to help others whenever they need it."